Umbrella Plant (Schefflera arboricola ), Growing and Care
Growing of Umbrella Plant (Schefflera arboricola ):
The Dwarf Umbrella Tree-more commonly called the Umbrella Plant-is a popular houseplant in many households, far from its native lands in Taiwan and surrounding countries. The Dwarf Umbrella Tree, orSchefflera arboricola, is an evergreen shrub whose popularity as a houseplant and use in landscaping in humid climates is compounded by its tolerance of unfavorable conditions, including lack of water and sunlight.




The Umbrella Tree can grow to around five feet in height, but with proper trimming and care, can remain small in size and be used as a bonsai. The leaves of Umbrella Trees can come in two different colors- solid green or a variegated variety, with yellow or white patches on the leaves. The variegated type is the most popular for bonsai.
Care of Plant :
Quick tip :

Remember with your dwarf umbrella / schefflera care

Don't keep the plant wet
Place the plant in as bright an area as you can
Watch out for mites
Don't be afraid to prune when needed

That's a quick look at one of the most easy to find indoor plants today – the Umbrella plant or Schefflera Arboricola.
Light
Choose a position that offers good light without direct sunlight if you want the best results, in time this will result in a neat bushy plant that can become tall and "tree" like. HoweverSchefflera is an accommodating plant for the most part so even if you choose a slightly darker home for it, things should still work out. Although it will grow slower and potentially have more of a leggy appearance as the leaves will be spaced out more. Some direct sunlight is acceptable but more than a few hours a day will cause scorch damage to the leaves.
Watering
The Umbrella Plant loves to be growing in moist soil for really good growth to occur, but it will certainly accept a level of underwatering, so if you forget to water it for a week or two after the soil last dried out, it should forgive you. It's not so forgiving of being overwatered however which can result in root and stem rot. Pour any excess water collected in the drip tray away to avoid this problem. In general the bigger the plant the more water it's going to need except when it becomes inactive in Winter, at which point just water enough to keep it ticking over.




Umbrella Plants are very popular with Insects – High humidity levels can help you keep them at bay
Humidity
Many modern houseplants aren't usually too fussed about humidity, or rather the typically humidity levels you would expect in a home or office. However these plants are very popular with insects like Red Spider Mite and Scale, so if you keep having problems with these bugs you might want to look at findings ways to make the atmosphere more humid to deter them permanently.
Feeding
Umbrella Plants can put out a lot of leaf and stem growth over a growing season so they do need regular feeding to fuel and sustain that level of growth. Use a general fertiliser at normal strength every couple of weeks, follow the manufacturer's instructions. Stop feeding when the temperature drops or whenever the plant becomes inactive i.e. when it reaches its ultimate (or desired) height.
Temperature
Scheffleras like an all round temperature range between 15°C / 59°F to 21°C / 70°F. The all green variety tends to be happier at the lower end of the scale where as the variegated types prefer the upper temperature levels. If things get too cold, leaves will fall off.
Repotting
The Umbrella Plant can do quite well in a small pot in comparison to its potentially very tall size. Which is helpful when it comes to dragging them outside to the potting shed as they do need to be repotted every two or three years even when they reach maturity. Standard compost, or potting soil is perfectly fine to use.
Propagation
It's not easy to propagate these houseplants for the average grower (we've never really had much luck), but if you fancy giving it a go you need to remove the growing tips in Spring and use them as propagation material. Take a cutting of around 5cm / 2 inches or so and place it into similar soil that the parent should be growing in i.e. potting soil or a shop brought compost. It's probably a good idea to use a rooting hormone if you have one and be sure the growing tip is facing upwards and not into the soil.
Speed of Growth




Good light levels, regular watering and feeding along with warmth will give your plant a cheetah speed of houseplant growth. So much so you could potentially grow an average sizedUmbrella Plant to a very tall one in the space of one growing season. When the temperature drops and the light levels decrease as Winter approaches the growth grinds to a standstill and you won't get anything else until the following Spring.
Height / Spread
The Umbrella Plant can either become a tall beast in your home or you can tame it to keep it short and compact. If you opt for the latter you simply need to pinch off the upward growing shoots which will create more growth lower down the central stem, so the overall height is in your control. If you opt for the tall appearance you leave the growing shoots well alone (unless you are trying to maintain a shape) and let it climb. It could easily reach 1.8m / 6ft indoors.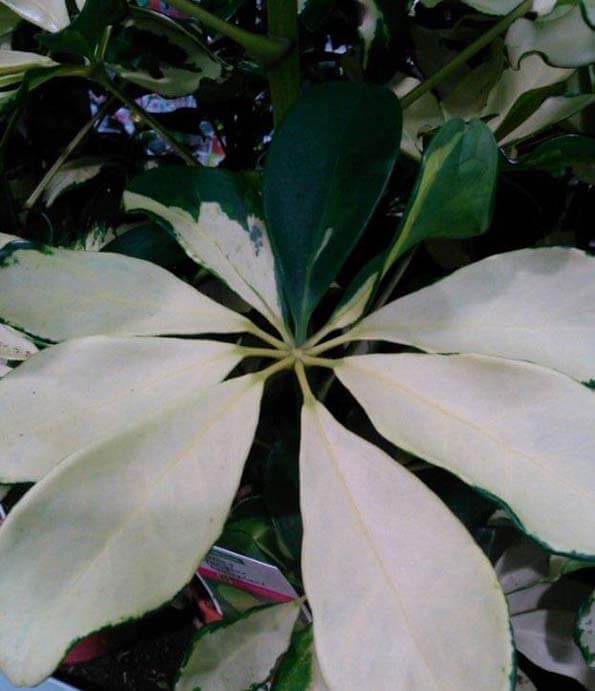 Which ever look you go for, the plant will be quite slender with it only spreading to 75cm / 18in at most.
Flowers
You almost exclusively only buy a Schefflera for its foliage so don't expect showy flowers on your indoor Umbrella Plant. If you get one with unusual leaf markings you could very well be adding one of the most gorgeous looking contrasting houseplants to your collection. There is a lot of individuality between these plants, even of the same variety, so do take your time when picking and choose something you personally find attractive.